Salar de Uyuni, the world's biggest natural mirror is something of a legend for world travelers. Ten times the size of Hong Kong at an altitude of 3650 meters above sea level, The Salar is the world's largest salt flat and up until three weeks ago, was at the top of my travel bucket list.
I've dreamt of going to this place since I first heard about it in 2009 and was finally able to this Chinese New Year Break. It wasn't easy getting there. 32 hours of flight time, 5 airport layovers, a lot of jetlag and 4200 meters in altitude later, we finally arrived in Bolivia and Uyuni!
The city of Uyuni was meant to be Bolivia's version of what Buenos Aires is to Argentina, what Paris is to France. Instead, we stepped into a deserted mining town that resembles a bad production of an Old Hollywood Western. Crumbling Brick and Mortar buildings, apartments with holes for windows, plastic sheet roofs, stray dogs, swirling dust…you get the picture. It was so easy to imagine tumbleweeds blowing through the one and only Main Street. Luckily, we were only here for a short breakfast while our guide arranged the supplies required for our stay in the Tayka Desert / Salar de Uyuni for the next 3 nights.
Uyuni and the adjacent Tayka Desert are like night and day. While Uyuni is a dead mining town, the Tayka Desert boasts some of the most majestic scenery I've ever seen in my life. Words cannot begin to describe how astonishing some of these sites are. We spent two days in a jeep riding on bumpy roads (if you can even call them that) visiting the different sites. It was a very humbling experience for I've never felt so small compared to the vast and seemingly endless terrain. In fact, the desert is so big we rarely saw other visitors except for the occasional llamas and flocks of flamingoes. How our driver was able to navigate where we were going without a GPS still befuddles me.
Photos, In Order from Left to Right:


1) Stone Valley, Entrance to the Tayka Desert. 2) Laguna Primero. 3A) 1500 Yr. Old Medicinal Yurata. 3B) Sulfur Geysers at 4900 Meters Above Sea Level. Walk at Your Own Risk. 4) Beautiful Colors of the Tayka. 5) Laguna Colorada at Noontime. 6) Laguna Colorada and its Resident Flamingoes. 7) Beautiful Colors of the Tayka. 8) Stone Tree. 9) Last Lake of the Tayka. 10) Swamplands where the Occasional Herd of Llamas or Alpacas Graze.
T

hen, the main attraction of our trip, The Salar de Uyuni. AMAZING, Unreal, Absolutely Magical. It's an experience that's difficult to fathom unless you travel there and experience it in person. When looking out at the salt flat, there are no buildings, no mountains, no trees or any other life form. There's nothing between your line of vision and the horizon. The wet season just began and so our guide took us to the giant mirror while the sun was setting. We spent a good 2 hours just standing and staring at the endless expanse of salt, water and sky around us. We only left when the sun finally set and disappeared beyond the horizon.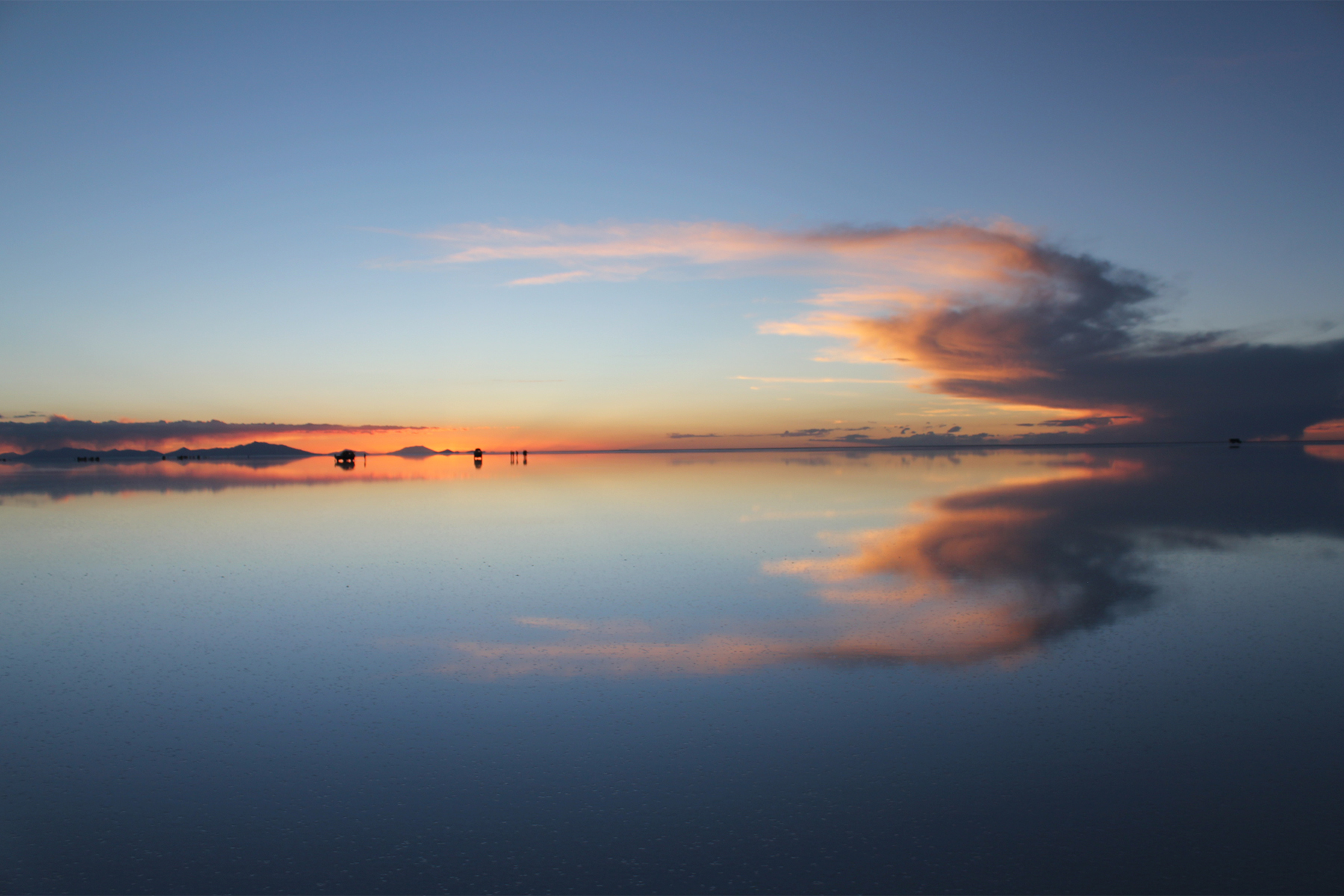 Photos, In Order from Left to Right:


1) The Chemical Properties of Salt create Natural Pentagons across the Entire Salt Flat when Dry. 2) 5:45 pm at 3650 Meters Above Sea Level. The Clouds Are SO Close! 3A) Sunset at 6:15pm. Absolutely Breathtaking. 4) And to Celebrate My Engagement (Haha), I'll end with a Picture of Me and My Fiance Frolicking on Nature's Giant Mirror.
Though I realize this post isn't about an interior space, I just felt compelled to share this experience. Being a miniscule part of the Tayka Desert and The Salar de Uyuni for a few days has already given me a deeper understanding of how Mother Nature affects and shapes the culture of the people who live in the High Plateau of Bolivia. I can see now, how the colors of the desert, red from iron, yellow from sulfur, make their way into the traditional clothing and practices of people's daily lives. I can see how the Great Andes Mountain range inspires their new Andean architectural style (though they still have a long, long way to go…). I can see and understand why the Bolivians respect and worship Mother Nature for if I lived in such a magical place, I probably would too. (In fact, "heaven" seems very near as the clouds are much closer than I'm normally used to due to the high altitude.)
I highly recommend going to Uyuni before it becomes overcrowded with tourists and too developed.
This was a trip that I will keep on dreaming about.

- Kelly